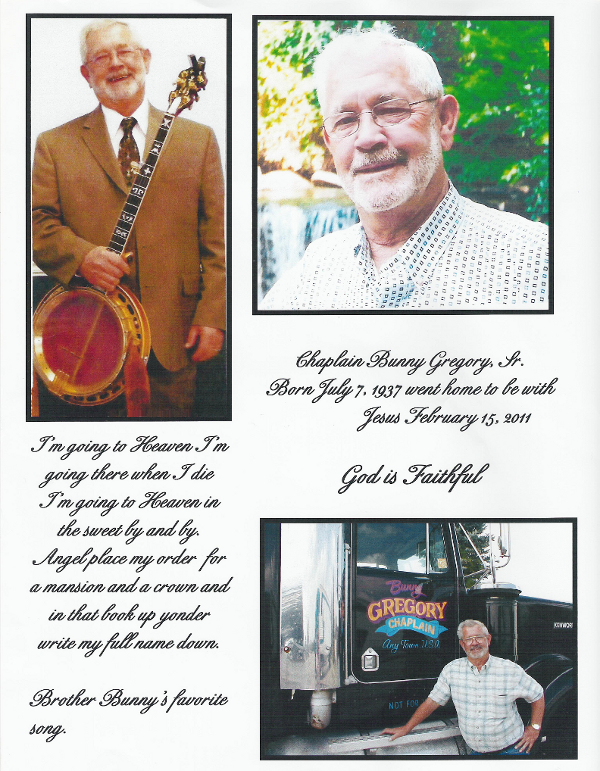 Click The Speaker Icon to listen to Brother Gregory's Funeral Service.
On February 15, 2011 my husband, Chaplain Orville "Bunny" Gregory, Sr. went to be with the Lord. We were parked at the Eloy Travel Center of America in Eloy, AZ. Bunny had been witnessing to many drivers. He had just told me that God had made so many opportunities for him that morning. As we talked he was so happy. We had had a great day. He then turned around and instantly fell into the arms of Jesus. Bunny had not been ill and there was no warning of his death. He died of a heart attack.
The Eloy Rescue Squad came for him and he was pronounced dead at the hospital. The funeral home that came for him was named Angels in Waiting; truly the angels came for my husband.
I have been married to Bunny for forty-six years and have traveled with him in his every journey. All through our journey my husband's desire was to win souls, and for thirty-six years we have taken our Mobile Chapel coast to coast telling the sweet story of Salvation through Jesus Christ. Bunny always prayed that he could preach until the day he died and God granted him that request. He was faithful until the end and Jesus gave him a sweet crossing.
Bunny was the love of my life. He was not only my beloved husband, he was my best friend. I shall miss him sorely, but I know God's grace will carry through the days I now face. I intend to carry on the preaching of God's Word and not to stop until I too see Jesus.
Bunny was laid to rest in Floyd, VA on February 24th 2011. There was an estimated 500 people who attended his services. Everyone has been in shock of his passing. Many have asked now what do we do? My answer is to keep proclaiming the grand Gospel message "Jesus Saves."
No one would be around Bunny for a short time until they would hear him say, "God is Faithful." That was his message, always God is faithful. For years we have prayed that a revival would come to our land, and we would wonder how it might be. Now I know. We have lived it. Calls and letters from all over the U.S. and Canada has come saying "God is Faithful." We will never forget the message that Bunny preached to us! It is amazing to me how one man could change the course of so many lives by being faithful to proclaim that his God is faithful. Bunny not only preached it, but he lived it. Bunny's life was to never lift up himself, but always Jesus. That was Bunny.
Born July 7, 1937. Went home to be with Jesus Feb. 15, 2011
Chaplain Bunny Gregory
Trucking for Jesus

Sincerely,

Chaplain Blonnie Gregory

Click The Speaker Icon to listen to Brother Gregory's Funeral Service.